Last Updated on August 28, 2021
HP PageWide 556xh Driver download for Windows 10 / Win 8.1 / Win 7 / Vista / WinXP and Macintosh Operating Systems. You can easily download latest version of HP PageWide Enterprise 556xh Page Wide Array Printer Driver on your Operating System.
HP PageWide 556xh Printer Driver Downloads
Supported Operating Systems: Windows 10, Windows 8.1/8, Windows 7 (32bit and 64bit for all OS)
Device Type: Printer/PageWide, Driver File Size: 107.4MB-109.8MB
Driver File Name: HP_Ent_Color_556_PCL-6_Win8plus_Solution_19239.exe
Driver Versions: 18.0.16070.169
Release date: 2 May 2016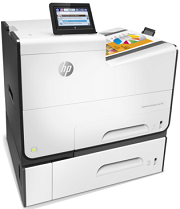 Supported Operating Systems: Windows Vista, Windows XP
HP PageWide 556xh Win Vista and WinXP Driver Download
Supported Operating Systems: Mac OS X 10.9/10.10/10.11/10.12
HP PageWide 556xh Macintosh Driver Download (9.1MB)
Thank you for choosing this HP PageWide Enterprise 556xh Wireless Printer Driver page as your download destination.